Press&Media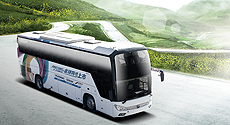 43,000,000,000km
Every year, Yutong buses totally run 43,000,000,000 kilometers and carry
34,000,000,000 passengers.
200 Yutong new energy buses to enter "city of ice"

Harbin is the northernmost big city in China. Its winter is very cold and long, and the minimum temperature can reach as low as minus 30 degrees Celsius. Therefore, Harbin is known as the "city of ice". As a place wher...

2018-01-15

View details
2013-10-17

The Busworld Kortrijk 2013 kicked off in Kortrijk, Belgium on October 17. As the world's largest and oldest professional bus show, it attracted more than 380 exhibitors of buses and components from over 32 countries to participate in this event.

2013-09-17

An insider of Yutong Bus said recently, Yutong has delivered over 1,100 units for the 2,000-unit order of Venezuela, achieving the goal of delivering 1,000 units in 2013.Based on the partial shipment size of about 300 units, Yutong sent 307 buses to Venezuel...

2013-07-22

The Yutong 2nd Fuel-saving Contest of Taiwan market kicked off at the operation station of Shin-Shin Bus Company, Ltd. in Taipei on July 22, 2013.Based on the experience of last contest and combined with the ideas of Shin-Shin Bus Company, the contest aims t...