Yutong Bus Reaches 15,000 Buses Delivered to African Markets
ZHENGZHOU, China, Nov. 23th 2018 /PRNewswire/ -- Zhengzhou Yutong Bus Co., Ltd. (600066:CH) (Yutong Bus or "the Company"), the world's leading bus supplier, has produced its 15,000th bus to be delivered to Africa at its factory in Zhengzhou, Henan Province. Minister from Ethiopia and representatives from over 30 African countries' embassies, including South Africa, Nigeria and Congo visited the plant to witness the bus rolling out of the factory and praise Yutong Bus for its support transportation development across the continent.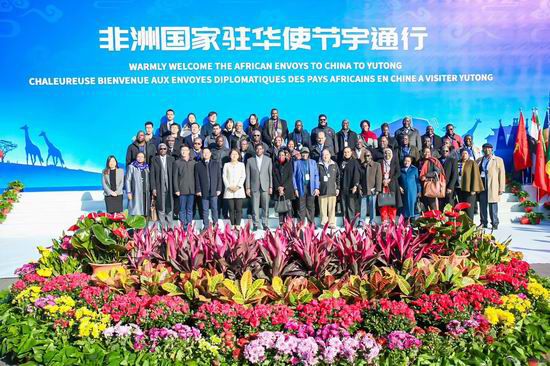 Representatives from African countries visit Yutong factory in Henan
The bus to be delivered to Africa is one of Yutong Bus most recent model, the ZK6122H9.Since entering the market in 2004, Yutong Bus has been the top Chinese bus exporter to Africa. Over the past three years, the Company's exports to Africa has accounted for 45% of China's total bus exports to the continent.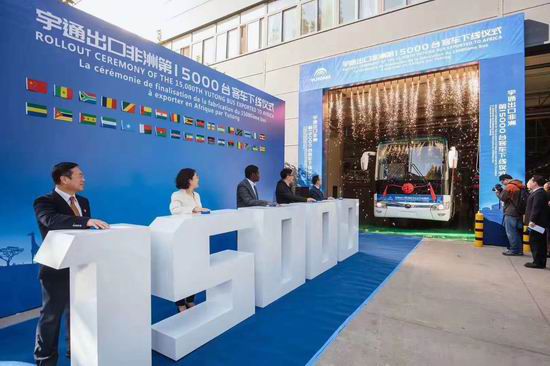 The 15000th bus for Africa rolls out of the factory
"15,000 bus is a huge milestone for us and for the African markets that we serve," said Hu Huaiban, General Manager for overseas markets at Yutong Bus. "As a major Chinese firm, one of our top priorities as we expand overseas has been localizing our strategies to help drive local employment."
The Company has established a comprehensive sales and service networks in nearly 50 African countries including South Africa, Ethiopia, Nigeria, Tanzania, Angola, Ghana and Algeria. It also supports factories in Nigeria and Ethiopia, bringing technical and talent support to local workers, providing a foundation for the local automotive industry and helping diversify economic development.
In 2017, Yutong saw a total sale of 67,568 large- and medium-sized buses including 24,865 new-energy buses. It has become the world-leading new-energy bus maker with international recognitions, successfully entering the markets in the United Kingdom, France, Chile, Bulgaria, Iceland and China Macao.