Yutong airfield buses delivered to Spain
2019-04-03
Ten Yutong ZK6140BD airfield buses headed to Spain from Chinese port Lianyungang on March 15, which would be expected to provide transport services to Madrid Airport. Plus the five airfield buses that had been delivered in the previous period, the order of airfield buses in China's bus industry to the European market have been all shipped.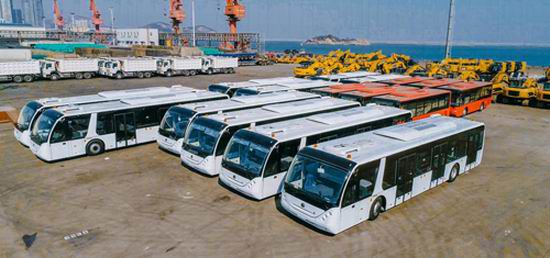 The European market is known for its strict standards. Exporting airfield buses has to not only meet the IATA (International Air Transport Association) standards, but also fulfill the EU airfield bus regulations. The number of existing airfield buses in Spain is around 200 units, with an average replacement of 20 to 30 units per year. In the past, airfield bus leasing form was adopted to meet the requirements of actual operation.
With good product quality and after-sales services of airfield buses, Yutong has won the trust of Spanish customers. The presence and influence of the Yutong brand in the European market will be further enhanced after the 15 airfield buses enter the Spanish market.