Natural gas buses made by Chinese firm put into operation in Bulgarian capital
2019-05-05
Chinadaily.com.cn is English portal in China. It published an article about Yutong on Apr. 30, 2019. It introduced Yutong's 22 units of natural gas buses were put into operation in Sofia, capital city of Bulgaria. The following words are the excerption from the article.
SOFIA -- A fleet of 22 natural gas buses made by a Chinese company was put into operation here on Tuesday with the aim of improving air quality in the Bulgarian capital.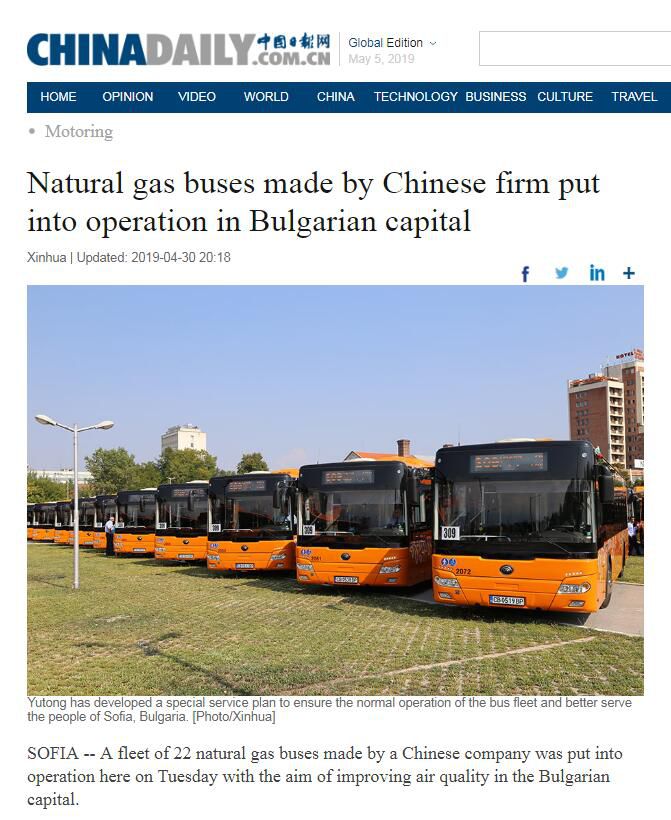 "I am glad that today we can delight the citizens of Sofia with these new ecological buses," Yordanka Fandakova, mayor of Sofia Municipality, said at the launching ceremony.
The acquisition was part of the municipality's air quality improvement program, Fandakova said.
In addition, the new vehicles made by Zhengzhou Yutong Bus Co would make traveling more convenient and comfortable, she said.
Wang Xuekun, economic and commercial counselor of the Chinese embassy in Bulgaria, said that this was the first batch of Yutong natural gas buses delivered to Europe.
"It can serve as a very good example of cooperation between the two countries and between companies from both countries," Wang said.
He recalled that 110 diesel buses and 20 electric buses made by Yutong were introduced to the Bulgarian capital city's public transport system in 2016 and at the end of 2018 respectively.