63 Yutong Dual-Source Trolleybuses Enter Mexico across the Ocean!
2019-10-14
With golden cornfield shining under blazing sun, and the legendary mermaid swimming under dark blue sea of the Caribbean, the ancient Indian civilization and Latin culture blend here, and the Mayan ruins reveal its mysteries in the sand blown by the wind... This is Mexico, a country with coexistence of reality and magic - "half the sea, half the flame."
As the Mexicans themselves said, Mexico City is the Sun of the "Mexican Solar System." It is perse, noisy, and even a bit messy, but the Spanish colonial architecture, the infiltration of Western culture, and folk art and performance have made it more perse and fascinating. The debut of Yutong's dual-source trolleybuses is bound to open a new chapter in electric green travel for Mexican people!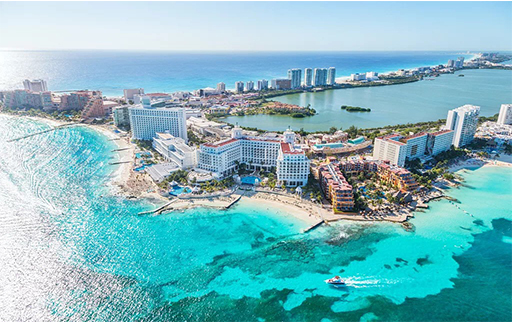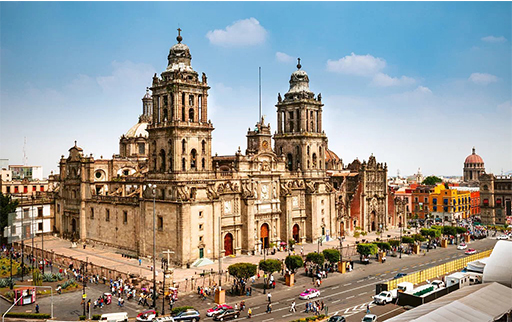 Unique Mexican style and architecture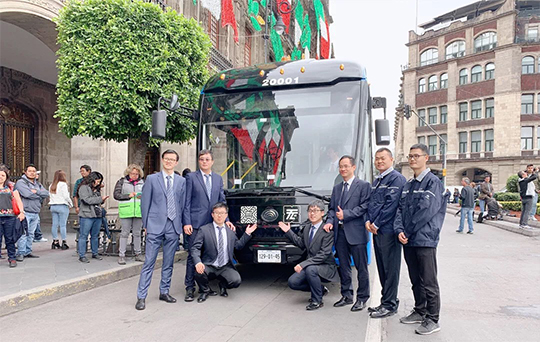 Yutong's first dual-source trolleybus enters the Constitution Square in Mexico City
On September 13, 2019, local time, the press conference for the first dual-source trolleybus presented in Mexico was held. At 6:30 in the morning, Yutong's first dual-source trolleybus entered the Constitution Square in Mexico City. Its novel shape and advanced technology attracted a large number of people.
Ms. Claudia Sheinbaum, Mayor of Mexico, and other high-ranking officials such as director of Transport of Mexico City, minister of the Mexican Commission for Reforms, as well as Guillermo, general manager of STE, a public transport agency in Mexico City and the purchaser, attended the press conference and witnessed this important moment.
"The arrival of Yutong's first dual-source trolleybus marks the first step in the green transportation reform in Mexico City. It is the first new energy pure electric bus of STE since its inception 22 years ago. This is an important milestone," said Ms. Sheinbaum, mayor of Mexico City.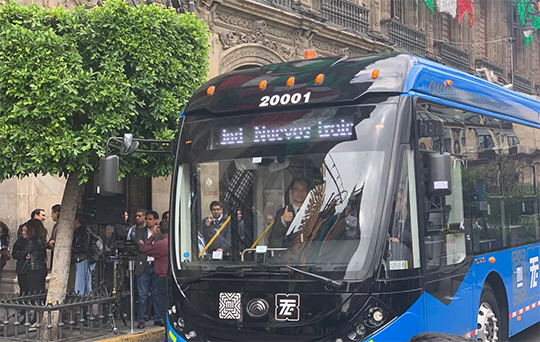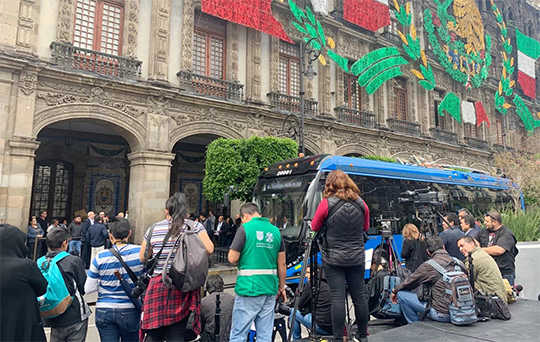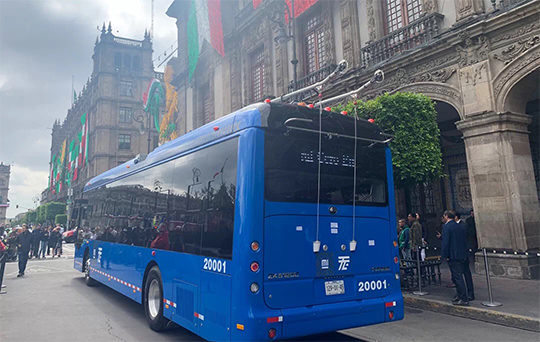 Yutong's first dual-source trolleybus enters the Revolutionary Constitution Square in Mexico City
The first batch of 63 dual-source trolleybuses for Mexico delivered by Yutong will be put into operation by the end of 2019 in Central Lazaro Cardenas, one of the trunk lines in Mexico City.
These vehicles are not only the first dual-source trolleybuses that have been put into use in Mexico, but also a record of volume orders of dual-source trolleybuses delivered in Latin America. After these vehicles are put into operation, they will bring a new experience of green and high-quality public transport service to local citizens, and start a new chapter in electric green travel in Mexico and Latin America.
Mexico City is the second largest city in the world with a population of approximately 22 million (including satellite cities) and is the most populous metropolitan area in the Americas. To alleviate the problem of "big city diseases" such as traffic congestion and air pollution, Mexico City proactively advocates public transportation priority policies and promotes green travel among citizens.
Since 2006, Mexico City has been vigorously developing Bus Rapid Transit (BRT) lines and replacing highly polluting small old buses with low-emission buses. The introduction of Yutong's "zero emission" dual-source trolleybuses will in no doubt greatly accelerate the development pace of green public transport in Mexico City.
Therefore, the Mexico City municipal government and leaders at all levels attached great importance to the introduction of the vehicles, and its mayor, Ms. Sheimbaum, personally visited and boarded the bus for a trial ride.
Yutong's dual-source trolleybus has a guide dog area and areas for special groups of people such as the disabled, the elderly and children, as well as a pink seating area for ladies. It is also equipped with a pedal for the convenience of the disabled. Such humanized design, seating arrangement, and interior workmanship received high praise from the mayor. During the trial ride, Ms. Sheimbaum was deeply impressed by the comfort and quietness of Yutong's dual-source trolleybus.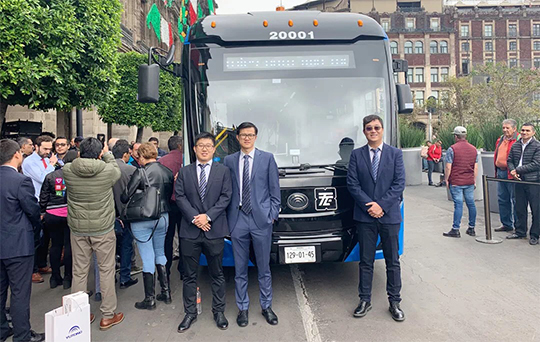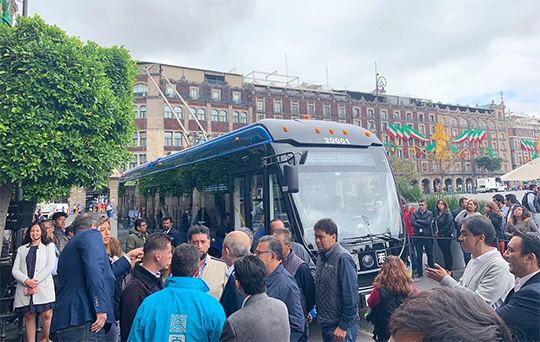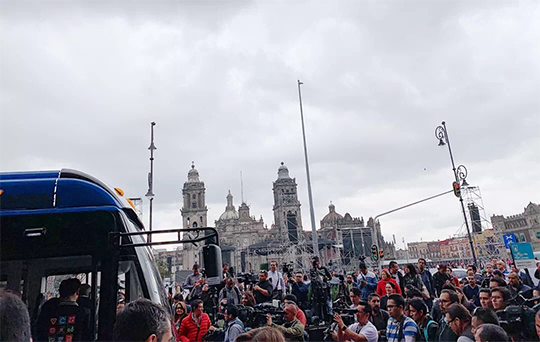 Mexican citizens have a trial ride in Yutong's dual-source trolleybus
The dual-source trolleybuses that Yutong delivered this time use dual-source power system of "power battery + overhead wires," allowing for a catenary-free battery range of more than 75 kilometers. At the same time, the vehicles can greatly reduce power consumption through braking energy recovery and comprehensive energy management. In terms of safety, the vehicles are equipped with a number of intelligent safety devices including a leakage protection device and a lane departure warning system, which can fully guarantee the safety of drivers and passengers.
In fact, "Yutong's dual-source fast charge pure electric bus development and industrialization" project has been included in 2015 National Science and Technology Support Program of the Ministry of Science and Technology of China long time ago. It represents the development direction of China's dual-source pure electric trolleybus. Yutong Bus is promoting new energy buses in Mexico and Latin America with the most advanced technology products.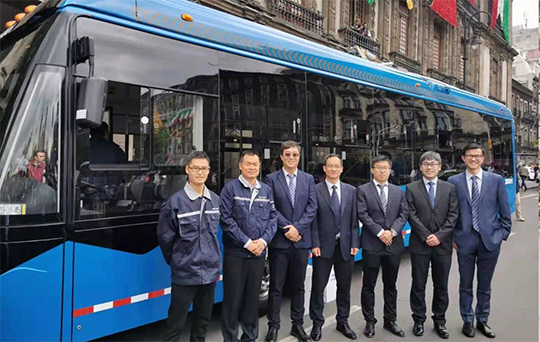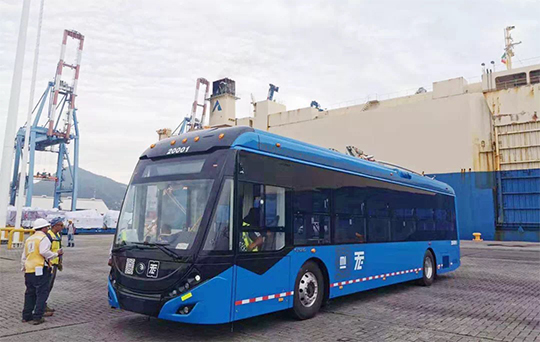 The dual-source trolleybus for Mexico delivered by Yutong
"These advanced dual-source pure electric trolleybuses delivered by Yutong provide a solid foundation and guarantee for Mexico's reform on future green travel and convenient transportation," Guillermo said.
"We will continue to support STE to purchase dual-source trolleybuses and Mexico City will continue to purchase approximately 500 dual-source trolleybuses in the next five years," the mayor added. The pure electric buses represented by Yutong's dual-source trolleybus are becoming a new trend for Mexico's green travel.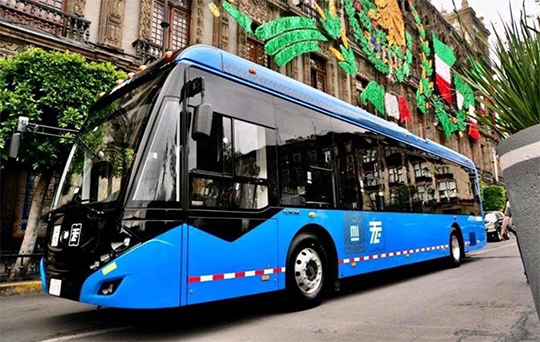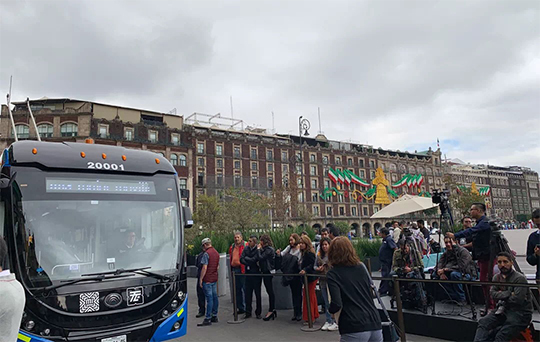 Mexican visitors are experiencing Yutong's dual- source trolleybus