How to fight the pandemic in terms of public transport? Please watch Yutong live show on Jun. 23!
With the gradual improvement of the lockdown situation, the "epidemic prevention and control" has shifted to "work resumption", and the virus prevention and control in terms of public transport has become the top priority. How seriously is the situation of public transport affected by the special period? In the face of sudden outbreak we have to deal with, where is the turning point of the whole industry? How can public transport operators reduce costs, increase efficiency and resume work smoothly under such circumstances? Is there any experience to share? As an international mainstream bus supplier, what is Yutong's experience in the field of public transport epidemic prevention?
In order to help solve the above problems and provide more thoughts and opinions for the industry, Yutong Bus, together with representatives from UITP, Busworld, will jointly hold the "BETTER BUS, BETTER LIFE" live show of overseas public transport to discuss the public transport solution after the lockdown and the future development direction.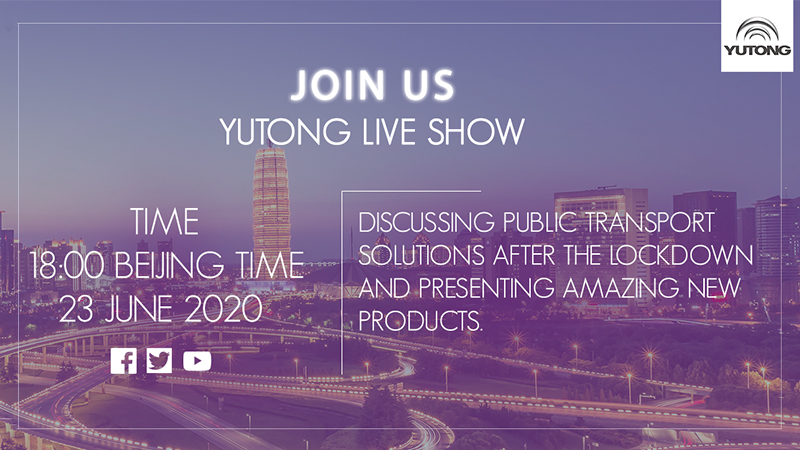 At the same time, Yutong will present its flagship products, U12 and T13E, on the live show to showcase its practical actions and strong technical strength for the global public travel practitioners.
During the live show, Yutong will also arrange an interactive part with lucky draw. In addition to the constructive talking, you also have the opportunity to win Amazon shopping vouchers and Yutong U12 bus model. Join us at 18:00 on June 23 (Beijing time) for the live show, and at 10:00 on June 24 (Beijing time) for the reply. We'll wait for you on Yutong's Facebook, Youtube and Twitter (Yutong Bus & coach)!