Yutong's first global live show concludes successfully
2020-06-29
On June 23, Yutong Bus launched an online live show of overseas social media with the theme of "Sharing experience for better travel" in its new energy plant, Zhengzhou. The live show has aroused wide attention of users on international social media such as Facebook,Twitter, Youtube, etc.
It is worth mentioning that the live show series content of Yutong's official Facebook has been viewed by more than 1.7 million person-time in a few hours. People in the global bus industry, tourism industry, highway passenger transport industry and a host number of netizens have praised and commented on it, which injected full positive energy into the joint fight against the pandemic.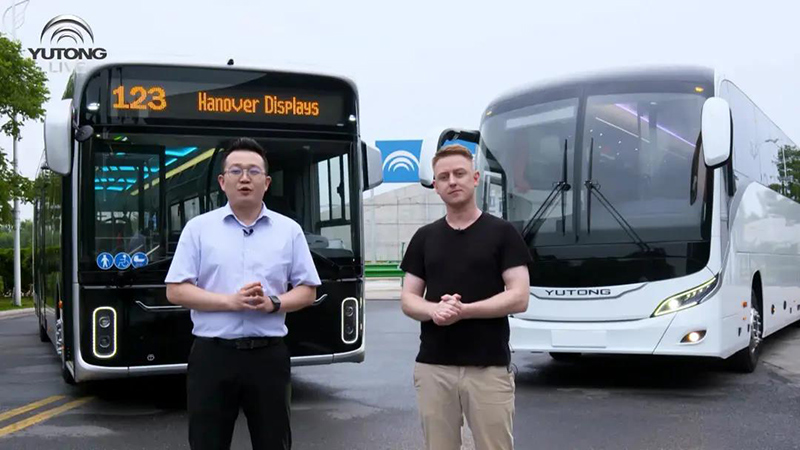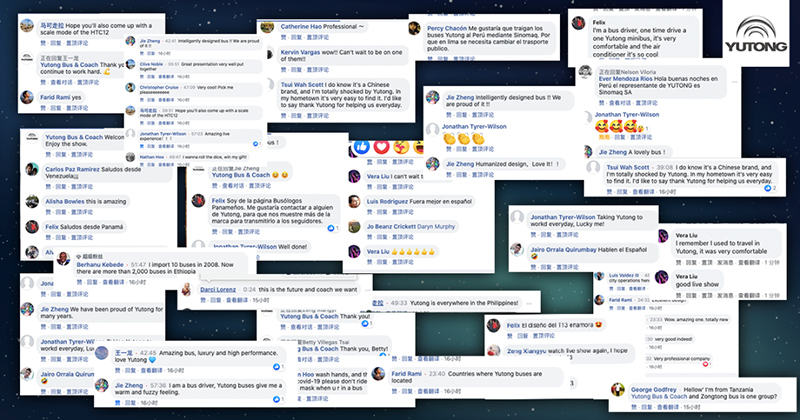 In 2020, the coronavirus outbreak was spread in the world. With the active response and measures taken by different countries, the pandemic has been controlled to a certain extent, and road transportation and tourism are also ushering in a new turning point.
Therefore, Yutong planned a global online live show, and invited experts of the public transport industry to share the experience of public transport amid the epidemic prevention and control period with global netizens, and showed the world Yutong's thinking and preparation for the public transport products in the future.
Busworld expert Jan deman, Andrea Soehnchen of UITP, Guo Yuanyuan, deputy director of Operation Department of Zhengzhou Bus Communication Corporation, and Scott, managing director of Newport (UK) gave their epidemic prevention and control suggestions from different professional perspectives in the live show, and expressed the good wish to get out of the pain of the pandemic as soon as possible and resume the normal operation of public transport system.
"The bus industry will usher in a turnaround in the next year, and the bus industry will return to a new normal. Zero emission, digitalization and higher ride comfort have always been the trend and demand of bus development," shared Jan Deman, director of Busworld Academy, his view in the live show. At last, he fully recognized Yutong's action in building such a communication platform for global bus industry.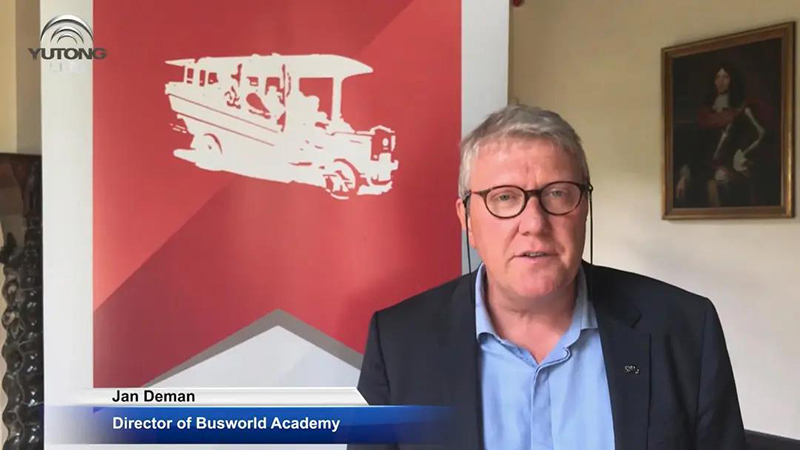 Andrea Soehnchen, consultant of UITP, found that the cooperation between manufacturers and operators is very important if the public transport operators want to reduce costs and increase efficiency under the outbreak situation. Yutong's high quality has been trusted by operators in various countries, and the live show with shared experience has won reputation in the industry and recognition of users.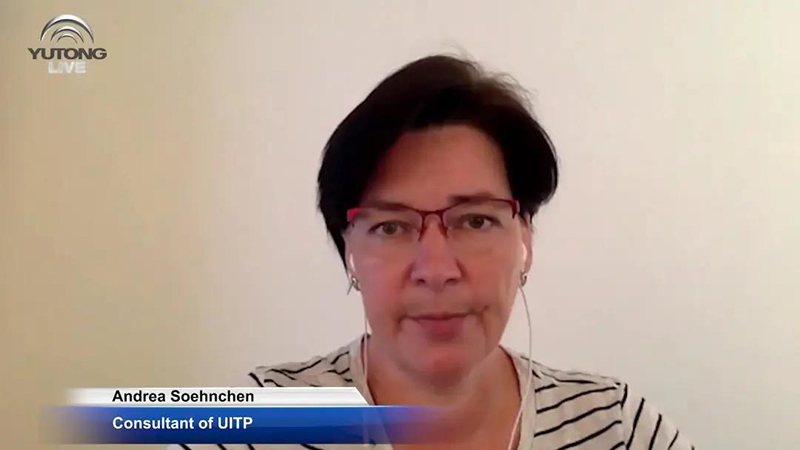 Guo Yuanyuan, deputy director of the operation department of Zhengzhou Bus Communication Corporation, a large-scale public transport enterprise, also shared the practical experience of epidemic prevention and control of public transport operation in the live show. The active response measures ensured the normal operation of public transport in Zhengzhou during the pandemic, and the prevention and control management mechanism of passengers and drivers was established.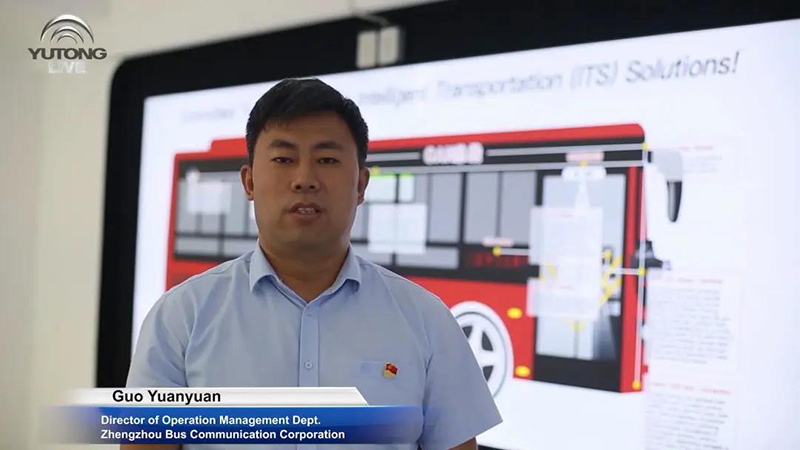 Scott Pearson, managing director of Newport, UK, as the operator of Yutong E-buses, also briefly introduced the operation process of epidemic prevention in UK, and affirmed Yutong's contribution to the development of bus industry.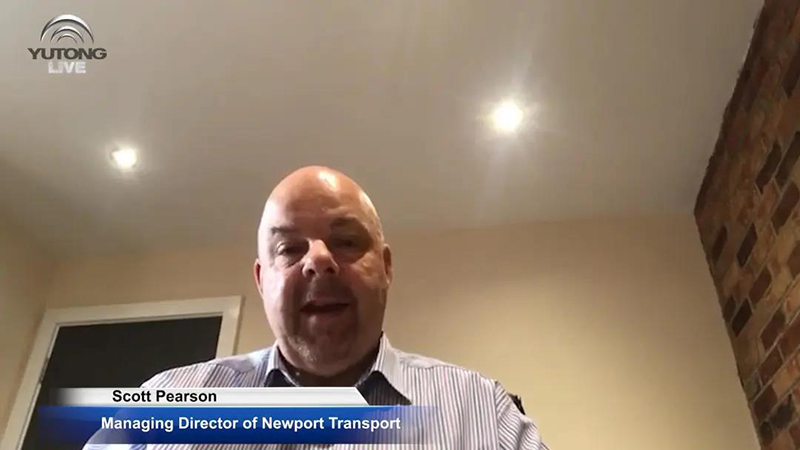 In the live show, Yutong also showcased two high-end models, U12 and T13E, which served as Yutong's flagship products, pushing the live show to a climax.
It is worth mentioning that the upgraded configuration of epidemic prevention and control was equipped on these two vehicles, such as wall-mounted wash-free sterilizer, large volume medicine kit, anti-bacterial seat, sterilization UV lamp, onboard ID recognition and infrared temperature measurement system, etc., making the global netizens witness the practical ability and sincerity of Yutong for "Better bus, better life".
With outstanding lightweight performance, high-performance LFP battery system and strong compatibility, U12 shows the product advantages of Yutong buses in reducing operating costs to the audience, as well as the core technical advantages of Yutong in the field of new energy city buses.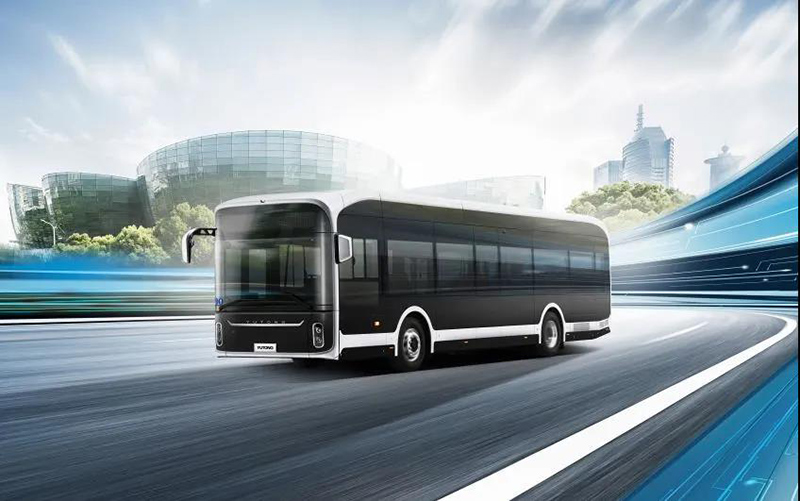 In addition, Yutong T13 e-version made its debut in the live show, which is an example of Yutong's higher-end coaches. Its amazing styling, user-friendly and luxurious specification, sophisticated manufacturing process and environment friendly concept left a deep impression on the audience, further demonstrating Yutong's determination and confidence to enter the high-end public travel field.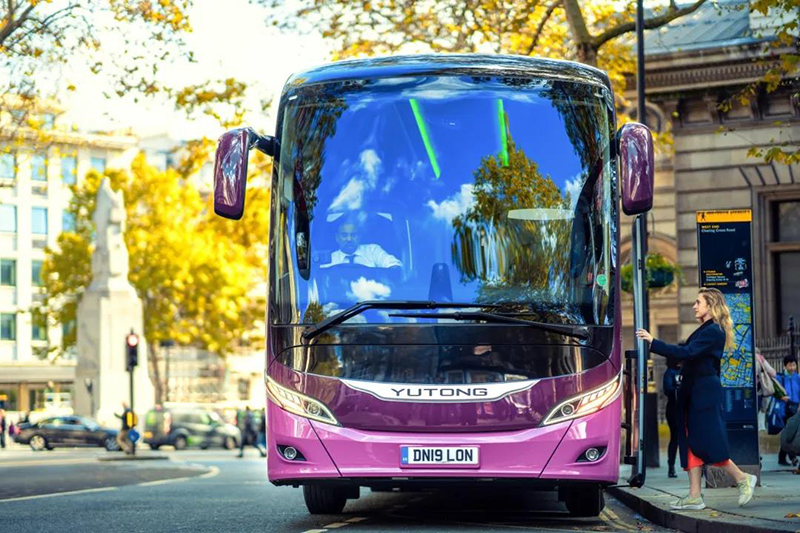 As a leading brand of in China's bus industry, Yutong's sales and service network has covered Europe, CIS, Latin America, Africa, the Middle East, Asia Pacific and other overseas markets, and its products have been exported to many countries and regions, including UK, France, Russia, Israel, Saudi Arabia, Chile, Colombia, Australia, Malaysia, the Philippines, Hong Kong, Macao and Taiwan. So far, Yutong has sold more than 70,000 units to the overseas market, and its annual sales volume held a leading position in the world for many years in terms of large and medium-sized buses.