Global NEV Pioneer Certification! Yutong Awarded Special Busworld Certificate
As the ongoing Qatar's top football event draws global attention, the 888 units of Yutong new energy buses have also attracted the attention of the world for serving the tournament in Qatar. On November 27, the Yutong New Energy Development Forum under the theme of "create a green and low-carbon future" was held in Doha, Qatar. The Yutong NEV operator and media representative from Mexico, Kuwait, Kazakhstan, Qatar, Poland, Belgium, Italy, Norway and other countries participated in the forum to share solutions to a "zero carbon" future when Yutong new energy buses were serving Qatar's top football tournament.
JAN RICHARD K DEMAN, Managing Director of Busworld Foundation and Director of Busworld Academy, who attended the forum, spoke highly of the outstanding performance of Yutong battery electric buses in the top football tournament. On behalf of Busworld, he commended Yutong Bus and Mowasalat as "NEV Pioneers".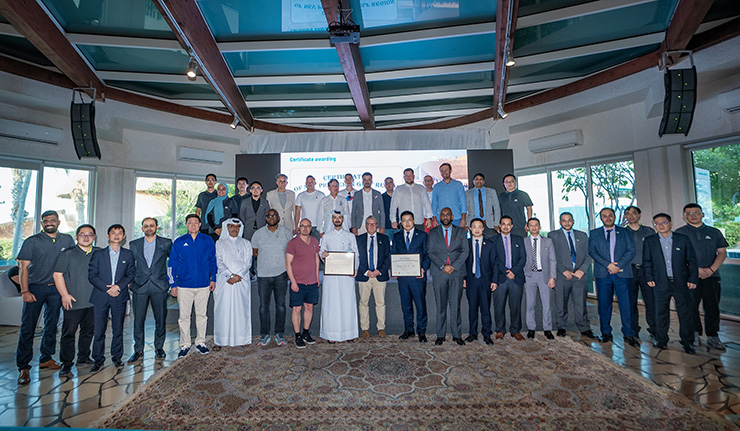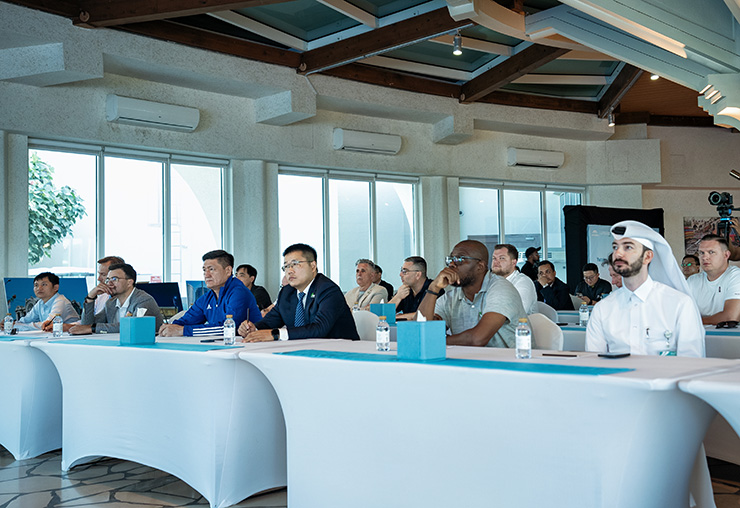 This edition of top football tournament is referred to as the first "carbon neutral" event, during which Yutong new energy buses have transported more than 940,000 passengers, and the number is still increasing.
The Yutong e-buses running to and from the stadium have won acclaim from all over the world. Fans applaud these e-buses from China for comfortable and cool rides, as well as convenience to enjoy the beautiful scenery of Qatar. In addition to passenger recognition, the local bus drivers have also commented positively with such remarks as "Quiet and easy to operate", "Powerful A/C, and passengers all say it is comfortable", and they say Yutong e-buses provide good driving experience.
On this forum, the representative of Yutong Bus shared the in-depth cooperation between Yutong and Mowasalat (Qatari state transportation operator) in such fields as public transit operation, e-bus depot management, and tournament e-bus service support during the ongoing football event. The tournament project is not only an integrated demonstration of the most advanced technology of China's new energy buses, but also another breakthrough of "Yutong Model" in the global new energy field.
In his speech at the forum, Shen Hui, CEO of Yutong Middle East, noted, "In addition to providing the full spectrum of products, Yutong, as a major e-bus manufacturer in the world, can also offer bespoke public mobility solutions to the differentiated needs of urban transportation. The e-bus fleet serving Qatar tournament represents an e-bus comprehensive solution featuring "trunk line city bus+branch line linkup bus+long driving range coach" that is specially designed by Yutong for Qatar. During the tournament, Yutong has set up a special 126-member team to perform daily multi-point inspection, station inspection and vehicle tracking, and the company has stored 4162 kinds of spare parts. Also, it has trained 3,000 drivers by groups, ensuring the safe and efficient bus operation during the tournament."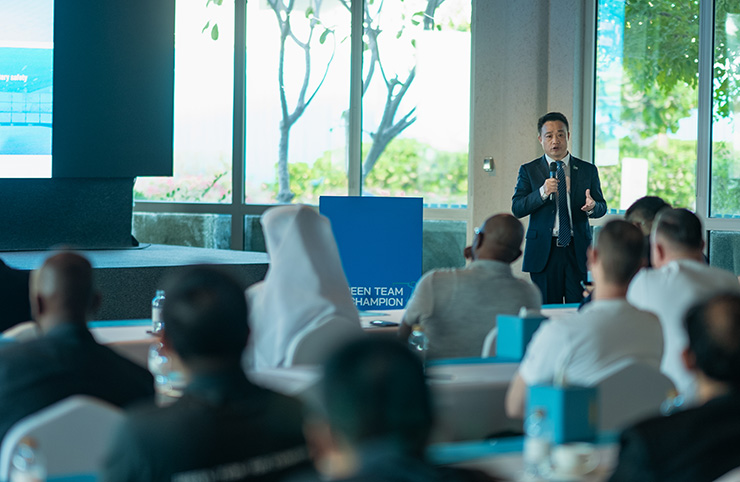 Picture | Shen Hui, CEO of Yutong Middle East addresses the audience
Through the unprecedented operation of such a large e-bus fleet, both parties have accumulated rich experience, laying a foundation for Qatar to operate the tournament buses in its post-event public transport system.
Mowasalat, as the leader of electrification in the Middle East, has played a critical role in promoting Qatar National Vision 2030. As the largest e-bus supplier in Qatar, Yutong has been significantly supportive of Mowasalat's low-carbon transition. The strategic cooperation between the two sides has not only set an example for the low-carbon transformation of local public transport, but also contributed valuable experience to the operation of new energy buses in extreme environments.
Prior to this forum, 60 partners of public transport from 16 countries were invited to Qatar to visit and experience the public transport system of Qatar. During the visit to Al Rayyan e-bus depot, many customers expressed their admiration for the commitment and professionalism of Mowasalat and Yutong in managing public transport operation.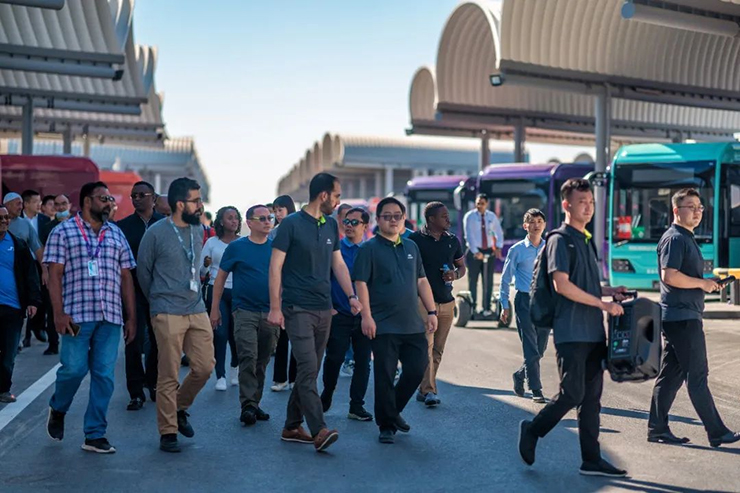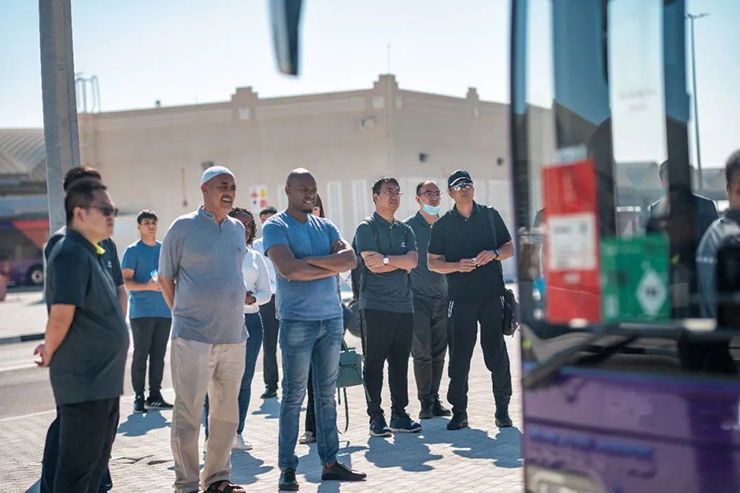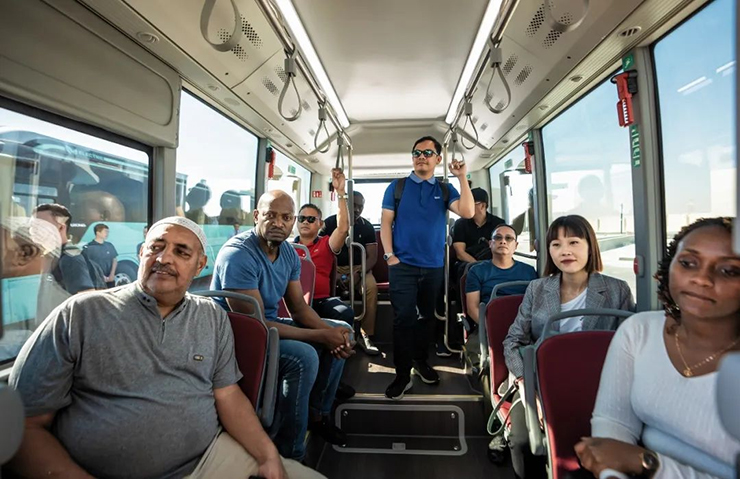 Picture | 60 partners of public transport from 16 countries visit and experience Qatar's public transport system
The outstanding contributions of Yutong and Mowasalat to the electrification of public transport in Qatar were also highly praised by JAN RICHARD K DEMAN, Director of Busworld Academy, who said that the two companies have taken the lead in the electrification of the Persian Gulf and the Middle East, and on behalf of Busworld, he commended them as "NEV Pioneers".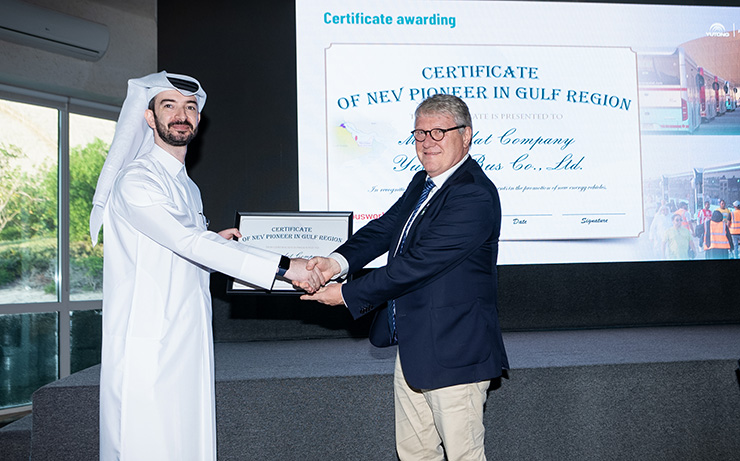 Picture | JAN RICHARD K DEMAN, Director of Busworld Academy, awards certificates to Yutong Bus and Mowasalat
Against the background of "carbon peak and carbon neutrality", the development of new energy buses bears upon the upgrading of industrial structure, and also closely relates to energy transition. This forum has strengthened global cooperation and exchanges for green and low-carbon solutions to jointly build a new ecology of regional coordinated development, bringing a lot of inspiration for the future development of new energy buses.
As part of his analysis of the development trend of the global bus industry, JAN RICHARD K DEMAN, Director of Busworld Academy, said, "Facing the general trend of global energy transition, China, North America and Europe are the key regions with a high adoption rate of e-buses. The new energy buses have shown consistently positive trend worldwide, and have become an important driving force for the development of public transport."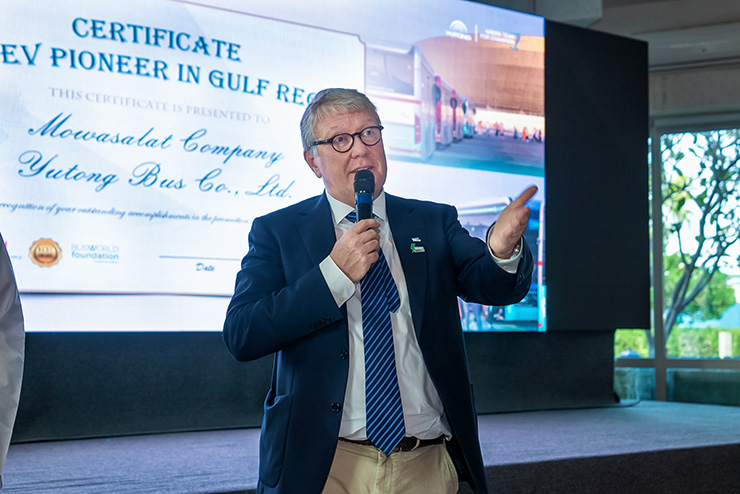 Picture | JAN RICHARD K DEMAN, Director of Busworld Academy, delivers a speech
When talking about the future of global new energy buses, Mr. Deman said, "The Busworld Academy has conducted analysis on a large amount of industry data of recent years, and China, North America and Europe are expected to be the main regions with higher adoption rate of electric buses in the future. Yutong has played an important role in improving the technology of electric buses. In particular, for the current project, Yutong has worked with Mowasalat in contributing to public transport electrification in Qatar and even the Gulf region, and has also provided valuable examples for the e-bus operation in other countries."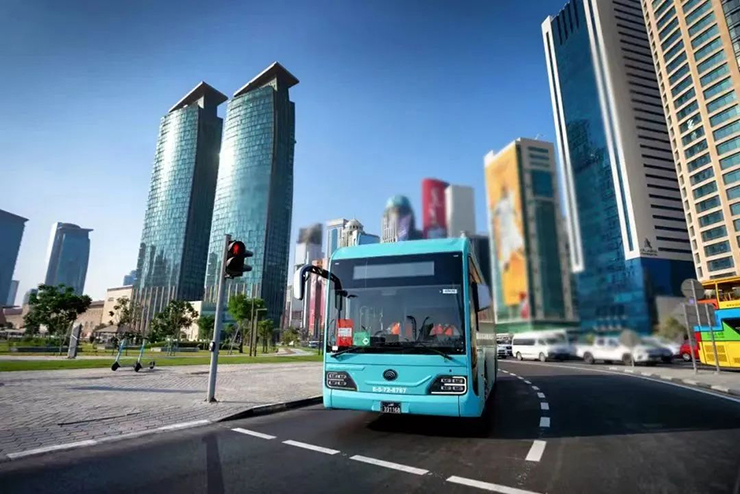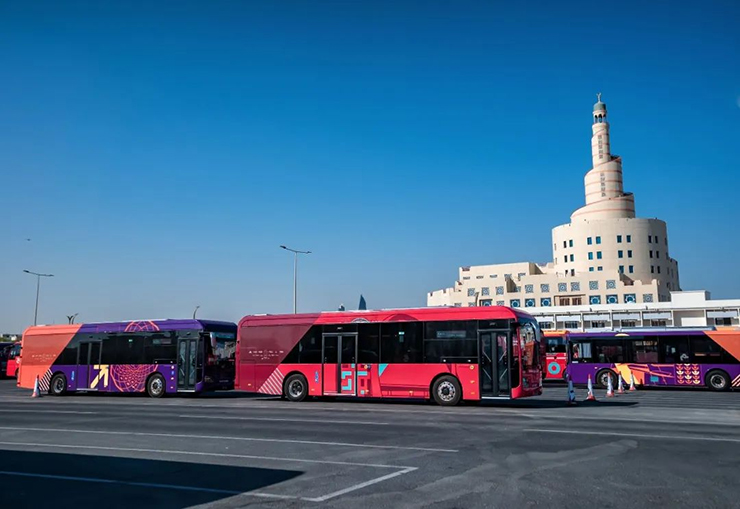 Picture | Yutong buses on the road of Qatar during the top football tournament
To achieve the goals of carbon peak and carbon neutrality, all countries, regions and major businesses have conducted pragmatic cooperation on diverse projects with remarkable achievements. Yutong's outstanding performance in Qatar is an epitome of China's bus exports. Over years, through its consistent cultivation of the overseas market, Yutong has earned a global reputation with its competitive products and solutions, customer-centered service, and core technology superiority, turning into a business card of China's NEV "Going Global".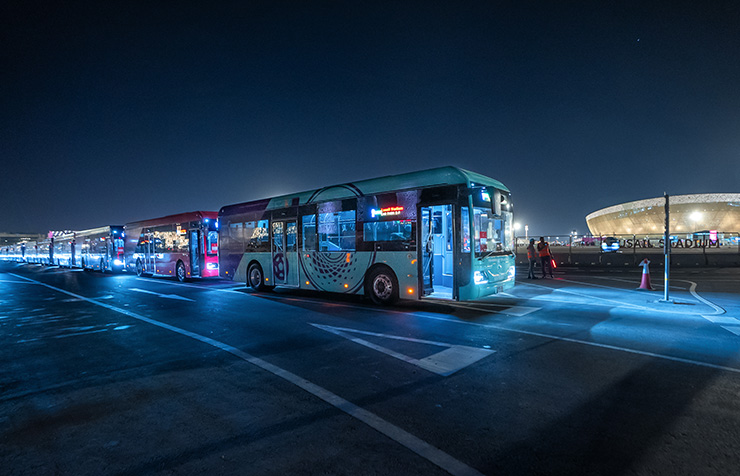 Picture | Yutong buses run on the road of Qatar
MOHAMED ABU KHADIJA, Strategic Director of Mowasalat, said, "Against the general trend of new energy, Mowasalat, as the largest public transport operator in the Middle East, is committed to public transport electrification under the National Vision 2030. Thanks to Yutong's strong brand strength and reputation across the world, Mowasalat chose Yutong as the strategic partner of electrification."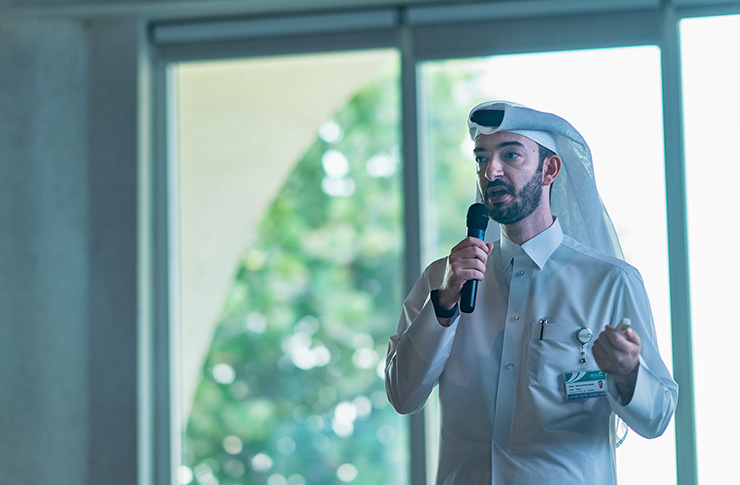 Picture | MOHAMED ABU KHADIJA, Strategic Director of Mowasalat, speaks at the forum
As a global major new energy bus manufacturer, Yutong has sold more than 170,000 new energy buses worldwide. From "NEV product supplier" to "integrated solution provider", Yutong Bus has constantly demonstrated the strength of Made in China, and Yutong buses running around the world have become a flowing Chinese element. In the future, Yutong will continue to expand global NEV operation, and work with global strategic partners to boost the sustainable development of the NEV industry.