Yutong ZK6125FCEVG1 fuel cell bus passes homologation in China
2015-08-31
Measuring 12-meter in length, 2.55-meter in width, and 3.55-meter in height, Yutong ZK6125FCEVG1 fuel cell bus is equipped with eight 140L hydrogen bottles on the roof at the front of the vehicle. Its fuel cell system and power battery system are located at the high-voltage cabin at the rear of the vehicle.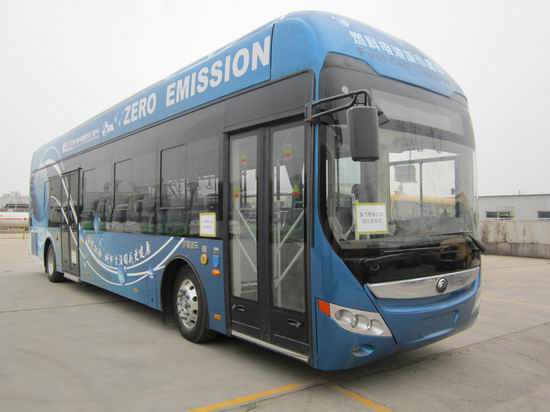 With the electricity-electricity hybrid power system composed of fuel cells and power batteries, Yutong ZK6125FCEVG1 boasts a fuel cell system with a rated power of 50kW. To avoid the frequent fluctuations of the fuel cell system due to the changing driving conditions, the bus is equipped with power battery system. Such a combination not only ensures the smooth operation of the fuel cell system, but also help customers cut purchasing costs. Moreover, its strong power and reliable performances are also highly guaranteed. On this vehicle, Yutong also introduces its latest distributed wheel rim driven technology. Thanks to this, the vehicle has significantly improved its power transmission efficiency despite the absence of differentials and other gearing equipment.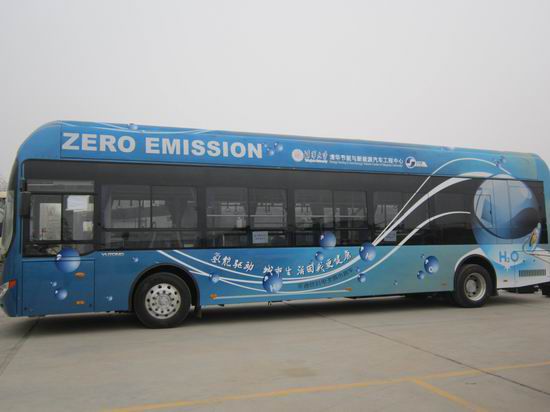 After a hydrogen refill, which takes only about ten minutes, Yutong ZK6125FCEVG1 is able to drive 300 km continuously. This gives it an enormous advantage to compete with fuel-powered buses. So far, Yutong has set up the first hydrogen refilling station in Zhengzhou in central China in order to provide solid backup for the smooth operation of its fuel cell buses.
According to the recent announcement (No. 44 Announcement, 2015) released by China's Ministry of Industry and Information Technology (MIIT), Yutong ZK6125FCEVG1 has already been officially listed on Vehicle Producers and Products (No.274). This fully shows the governments' recognition of Yutong fuel cell bus manufacturing technologies. It also demonstrates the governments' determination to further push forward R&D of such an environmentally friendly bus. The official introduction of Yutong ZK6125FCEVG1 is firmly believed to be a new milestone in the history of China's fuel cell bus industry.