Yutong shines at China Transpo 2018
2018-05-31
Themed with "Led by technology and driven by innovation, strive to push forward the construction of a strong transportation country", the 14th International Transport Technology and Equipment Exhibition (CHINA TRANSPO2018) was held at the China International Exhibition Center in Beijing on May 28-30, 2018.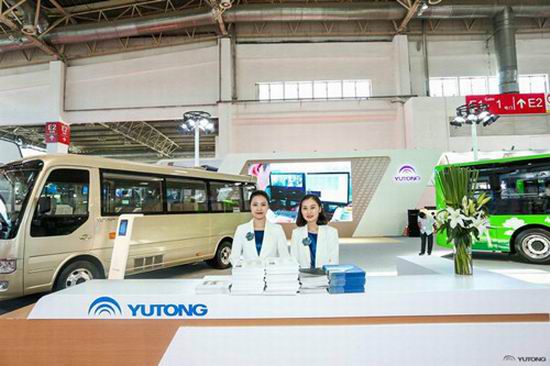 Yutong brought its five buses and coaches on display, namely fuel cell bus F10, full electric city bus E10, full electric coach E10, T7 business purpose vehicle and new generation of luxury coach ZK6128.
Equipped with smart driving technology such as environmental awareness and decision-making control, as well as 360 degree viewing system and front collision warning system, the 10.5-meter 60kw hydrogen fuel cell bus F10 features modern high-end specification of public transportation, thus improving the driving convenience, ride comfort and safety.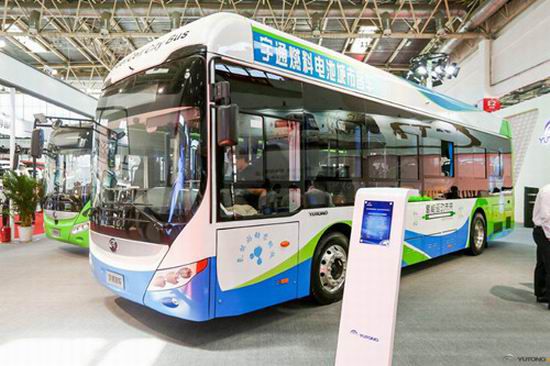 Yutong also completed the development of the 12m fuel cell bus F12 and formed a product series of 10m and 12m. The fuel cell system is provided with two configurations, 60 kW and 50 kW energy-style fuel cell systems, which can meet various needs of customers based on different urban transport conditions. Meanwhile, the energy-style configuration allows the fuel cell system to operate in the 50% load zone most of the time, boasting higher economical efficiency and longer service life.
Another highlight of the vehicle is its feature of "minus emissions". Adopting a distinctive active regeneration automatic control physical and chemical integrated air filtration technology, Yutong fuel cell city bus can absorb pollutants and PM2.5 particulates in the atmosphere, and discharge clean water and air. One-day running of a fuel cell bus can purify the air volume needed by 200 adults for one day, which makes the vehicle become a truly "mobile air cleaner".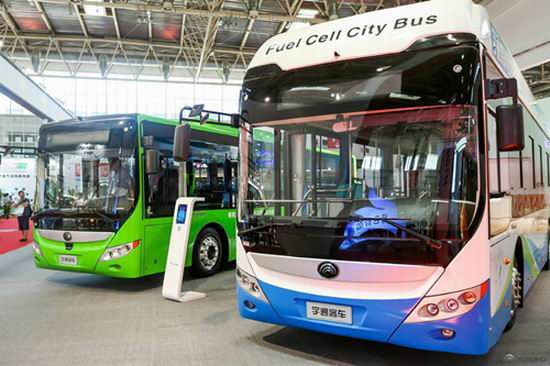 In the past two years, Yutong continuously promoted the commercialization of fuel cell buses while optimizing the technologies and products of fuel cell buses. It has won the bid of the 3rd phase of the project "Promote the commercialization of fuel cell vehicles in China" which was jointly supported by the Global Environment Fund (GEF) and United Nations Development Program (UNDP) and implemented by Chinese Ministry of Science and Technology, and it also won the bid of 12m fuel cell buses for Zhangjiakou Winter Olympics, etc.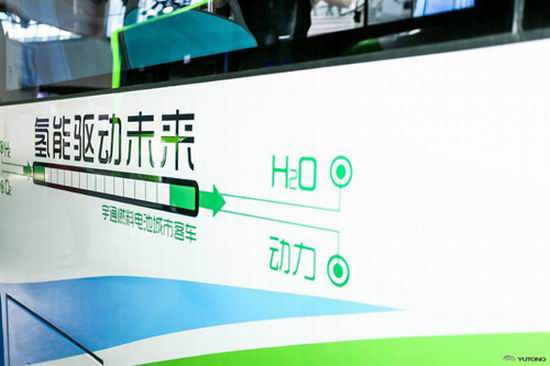 At this exhibition, Yutong exhibited its new energy products, full electric E10 in city bus version and coach version respectively. Adopting the ReCtrl technology, both of the two products not only meet the national 3S safety technology standards, but also feature high safety, long driving range, strong power performance and good trafficability. The upgraded products are safer, smarter and more economical.
Keeping pace with the times, Yutong is building a world-renowned Chinese bus brand with high quality products, innovative technologies and sound services.