Service Does Play A Role
2009-04-06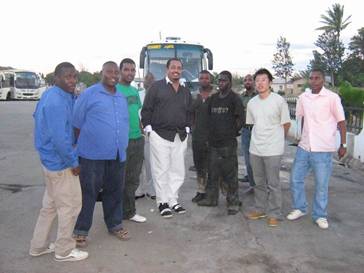 In order to providing better service to Tanzanian clients, the sales and service staff of Yutong were sent to Tanzania and carried out related work on the spot.
To guarantee the normal operation of buses, Yutong's sales and service staff actively assisted clients with customs clearance of spare parts and worked overtime to satisfy clients' requirements.

Due to the scattered locations of clients, our service staff had to go to different places in one day forrepairing and maintenance. Good after-sales service gained recognition from clients and inspired their determination to further purchase Yutong buses, thus enhancing the brand image and promoting the sales of Yutong buses in Tanzanian market.
Till now, Yutong has quite a few of buses in Tanzanian market, therefore a service station integrating service and spare parts warehouse is needed to be established. After many times investigations conducted by Yutong sales and service staff, a repairing company run by a Chinese was selected. Through negotiation and communication lasting nearly two months, Yutong eventually signed a service agreement with the service provider, thus ensuring the access to spare parts and timely service.
The buses of Yutong in Tanzanian market were applied for passenger transport, leading to the uncertainty of service work. However, by promoting the spirit of Putting Service First, Yutong's service staff actively solved problems occurring in the clients' buses and timely fed back relevant problems found, which received favorable comments from all clients.
Upon arrival in Tanzanian market, Yutong's service staff actively conducted trainings on the clients and service provider with respect to maintenance and operation of Yutong buses as well as maintenance of engine, transmission and rear axle. Through the trainings, both the maintenance level of clients on buses and repairing skills of service staff of the service provider were greatly improved.

The service campaign enabled users' vehicles to achieve qualitative leaps on timely repairing as well as operational performance and made passengers have fresh and cool, comfortable and homelike feeling in Yutong buses under the hot weather of eastern Africa. It also enhanced the reputation of our products in Tanzania and even in eastern Africa and laid a solid foundation for Yutong to further exploit and develop international market.