Service Month campaign in Cuba
2009-04-08
For the purpose of pushing forward the implementation of large purchase orders in Cuba, guaranteeing the service of new buses in 2009, continuously improving customers' satisfaction and carrying out services through more detailed aspects, Yutong's Cuban Office arranged a Service Month campaign from Mar. 14th to Apr. 24th and got overall praise from all Cuban customers.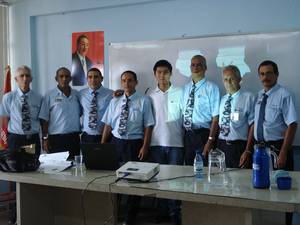 The service month campaign combined on-site troubleshooting with training together.
During the period, totally 31 big problems beyond quality guarantee were solved for customers. The influences of worldwide economic crisis and 2008's typhoon in Cuba are still increasing now and currently most companies in Cuba are lacking of capitals. For the benefit of customers and factories, the costs of the troubleshooting, like man-hour fees and material fees, were free of charge.
Among the campaign, 25 person-times and 34 class-hours were arranged for technicians from different companies throughout the whole country. During the training, 24 technical handbooks were handed out to the participants, so that they could take part in practical operation while being trained with theoretical principle. After the training, 8 persons became excellent maintenance staff and were able to work independently. The rest participants were also improved a lot in terms of their service capability which laid a good foundation for bus service in the future.
During the period, Yutong not only took consideration of the economic crisis in Cuba, but also trained a lot of technicians at the same time. The spirit of "Customer-oriented" was praised by the Cuban Ministry of Transportation, all the companies and drivers.