Service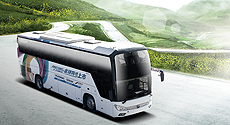 43,000,000,000km
Every year, Yutong buses totally run 43,000,000,000 kilometers and carry
34,000,000,000 passengers.
Yutong's service highly recognized by Cuban customers
2009-06-18
Recently, Yutong's office in Cuba successfully completed the 2009 Satisfaction Survey of Yutong's Customers in Cuba, which was conducted in different transportation companies and maintenance bases in Cuba. The survey results show that Yutong's service is highly recognized by the Cuban customers.

The survey was implemented in the form of e-mail and paper-based questionnaires. The survey was carried out among the general managers, technical managers, and spare parts supervisors in 9 major transportation companies and 31 maintenance bases in Cuba. A total of 40 valid questionnaires have been received.

The survey content included different aspects, such as the degree of overall satisfaction, on-site maintenance service (incl. service skill and service attitude), training, spare parts, quality, etc. The scoring criteria was from 1 point to 5 points ( "5" means "extremely satisfied", "1" means "absolutely dissatisfied" ). The overall satisfaction rating of Yutong's service in this survey was 4.65 points, with the service attitude receiving the highest points among the individual and module items.

The survey also defined some points for improvement for Yutong's servicemen in Cuba and indicates the direction of focus for future work.