About Yutong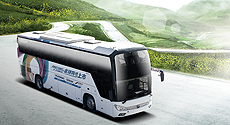 43,000,000,000km
Every year, Yutong buses totally run 43,000,000,000 kilometers and carry
34,000,000,000 passengers.
History
1963

Zhengzhou Bus Repair Factory was founded

1993

Zhengzhou Yutong Bus Co., Ltd. was founded.

1997

Listed in Shanghai Stock Exchange, becoming the first the listed bus company in China

1998

Yutong Industrial Park with an investment of CNY 400 million was put into operation.

2002

Yutong's annual sales volume exceeded 10,000 units for the first time.

2005

Launched the overseas market strategy, becoming the first Chinese bus builder to export CKD parts.

2006

Granted the Certificate for Exemption from Export Inspection

2009

Zhengzhou Yutong Bus Co., Ltd. Specialty Vehicle Branch was founded.

2009

The internationally advanced cathodic electrocoating line and the first experiment center of buses and parts in China were set up.

2011

Yutong TSM intelligent operating system was launched.

2012

The Yutong New Energy Bus Plant was put into operation.

2013

The sales volume of buses and coaches reached 56,068 units, among which 3,897 units were new energy buses.

2014

Yutong's sales volume of buses and coaches reached over 60,000 units, leading the China's bus industry to a new height.

2015

Yutong successfully completed the world's first trial operation of unmanned bus。

2016

Yutong has provided transportation services for a number of high-profile activities like APEC meeting, China-Africa Cooperation ...

2017

Yutong was granted the Ecology Label of Busworld Award 2017, fully showing Yutong's outstanding achievements in the field of new...

2018

Yutong new energy buses were exported to overseas high-end market, and won the largest order of 100-unit full electric buses fro...