Share operational management experience and promote transportation industry of China and Saudi Arabia
2014-10-18
Share operational management experience and promote transportation industry of China and Saudi Arabia—— Symposium on Exchange of Operational Management Experience 2014 was held in JeddahHosted by China Auto International Exhibition Tour Committee affiliated to CCPIT and organized by Zhengzhou Yutong Bus Co., Ltd., the Symposium on Exchange of Operational Management Experience 2014 was held in Jeddah, Saudi Arabia on May 21, 2014. The representatives from Saudi Ministry of Transport, Development Agency, International Chamber of Commerce, transportation companies, Commercial Office of Chinese Embassy in Saudi Arabia, Society of Automotive Engineers of Henan, Zhengzhou Transportation Group and Zhengzhou Yutong Bus Co., Ltd. were present at the event.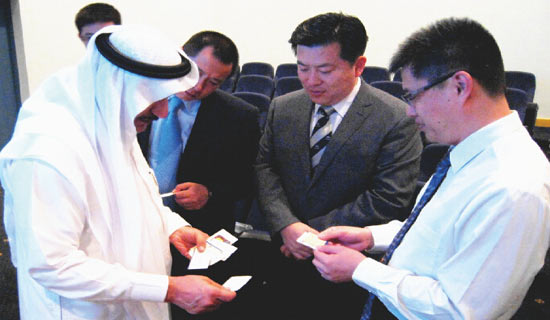 With the theme of "Jointly promote the rapid development of Sino-Saudi road transportation undertaking", the attendees conducted in-depth discussion, recognized the achievements of China and Saudi Arabia obtained in recent years on transport cooperation and operational management, and proposed important plans for the development prospect of passenger transportation market in both countries. A number of experts pointed out that the passenger transportation industry of both countries is in the emerging phase and the demand on buses is expanding year by year, but the systematicness and advancement of operational management still need to be further improved. At present, Saudi Arabia and China have their own advantages in the field of road transportation, and how to take full use of the complementary advantages and deepen the cooperation has become the key research direction of both countries. Therefore, it is important for the road transport development of both countries to strengthen exchanges and cooperation of both countries in terms of the passenger transportation and improve the experience of bus quality check and operational management.
During the meeting, Wang Zhenbin, chairman of the board and GM of Zhengzhou Transportation Group, introduced the successful experience on passenger transportation management in China. Focusing on some key Chinese long-distant routes, he analyzed the features of operation pattern, vehicles usage and organizational management in details. Taking Yutong buses, a brand which owns the largest market share in China, as an example, he introduced its features of good stability and safety, advanced performance, energy-efficiency, outstanding service and cost-efficiency. Wang also shared the experience on selecting bus models and specification for four kinds of passenger transportation routes and elaborated how the scientific management style enhances the operational efficiency and economic benefit.
Meanwhile, the head of Yutong Overseas Products Department introduced the development of Chinese buses in Saudi Arabia as well as TSM intelligent management system, the latest technology of Yutong. Along with the rapid development of China's passenger transportation industry,Saudi Arabia began to import more and more Chinese buses. By the end of 2013, the number of Chinese buses in Saudi Arabia reached more than 18,000 units. Commuting between cities and towns in Saudi Arabia, these Chinese buses have made great contribution to the local road transportation industry.
The representatives of Saudi operators also shared their operating experience in the meeting.
How to manufacture buses of high quality, improve the passenger transportation management level and provide safe and convenient means of transportation to the public has already become an important issue of many countries. We believe, through this meeting, China and Saudi Arabia will continually deepen the cooperation and develop together so as to bring greater benefits to the people of both countries.