Yutong attends ANAC Auto Show
2014-10-20
The ANAC Auto Show is one of the most important exhibitions for Chile's transport sector. This is the ninth time for Asociación Nacional Automotriz de Chile A.G. (ANAC) to hold such kind of exhibition, totally 57 auto and truck brands participated in the event. In addition to the huge number of auto brands, there were about 20,000 people visiting the exhibition hall of 70,000-sq -m during the five days. The scale of the exhibition has hit record high.
Yutong new bus model was officially launched in front of dozens of media on the auto show at eight o'clock p.m. on May 13. Through this occasion, Yutong also released other related information including corporate brand, development history, launched bus model, after-sales service and so on. Meanwhile, a team consisting of several show girls also gave a performance to all the media friends and visitors and brought the atmosphere to an exciting climax. Through this event, Yutong's popularity in the local bus industry has been further enhanced and the Yutong brand also widely publicized as well.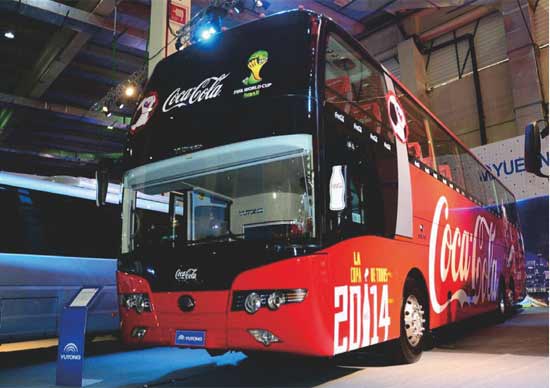 After the launched ceremony, Yutong invited about 50 end users and top management of passenger transportation companies for dinner. In addition, a cocktail party for 200 people was also held. The activity went very smoothly, all the guests spoke highly of Yutong's products and service philosophy.
During the Public Days (May 14-18) of ANAC Auto Show, Yutong staff have prepared a series of activity programs and customer reception process. Small-sized performance was given every evening to warm up the atmosphere and attract visitors. Meanwhile, the dealer and Yutong sales people were on standby on site all the time, received the customers and promoted Yutong brand and its products.