Here we are—— Yutong's marketing activities in Latin Americas
2014-10-20
Yutong appears at Cuba Industrial Exhibition
The Cuba Industrial Exhibition organized Cuban Ministry of Industry by which is especially for the Cuban industrial enterprises and suppliers from different countries was held for the first time on June 23-27, 2014. As a long-term partner of Cuban Ministry of Industry, Yutong was invited by GUILLERMO, president of Cuban Industrial Group, to attend this exhibition as a "co-sponsor" of TECNOSIME (Ministry of Industry).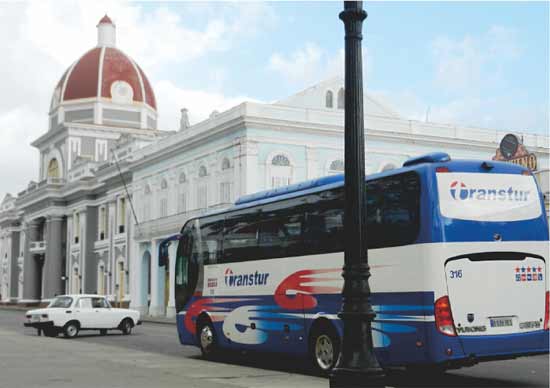 The exhibition held for the ministerial officials of industrial sectors from various countries of the American introduced Yutong's development situation in Cuba and conducted negotiations with the leading members of industrial sector and key customers from various countries. The government leaders and corporate top management from Cuba, Venezuela, Ecuador, Bolivia, Haiti, etc. also attended the exhibition.
Yutong delivered a keynote speech as a co-sponsor on the Negotiation Meeting on Professional Services and Technology, and talked with important leaders and related key customers. Meanwhile, Yutong has showed two buses, a ZK6122H9 coach and a 7.5m NIANA bus which uses Yutong chassis and body parts, on the exhibition to help the market development in the future.
Through elaborating its development status and technical advantages, introducing its cooperation with Cuba and contacting government's high-level officials of industrial and agricultural sectors from different countries, Yutong tried to enhance its influence in the American market and explore more cooperation opportunity.