Scale new heights——Yutong medium-sized coach ZK6838HA
2014-10-20
Specifically designed for the needs of customers in the South American market, ZK6838HA inherits the advantages of Yutong medium-sized coach ZK6831HE and also integrates the customers' requirements and regional characteristics of South America to enhance the adaptability and attraction of the vehicle. ZK6838HA is a medium-sized coach adapted for the tourism market of South America following the ZK6831HE, which features catching appearance, excellent performance and good ride comfort.
Adopted the FAMLIY design concept for the styling, ZK6838HA uses the appearance of Yutong New 8 Series which feature classic products and appealing styling. The products of New 8 Series have been delivered to many countries and regions with lowered product costs and improved capabilities of spare parts guarantee. The "smiling face" front wall of New 8 Series brings you the joyful feeling and the design of full-sized side windows makes it a moving scenery. The larger ride space enables each passenger to enjoy a comfortable journey.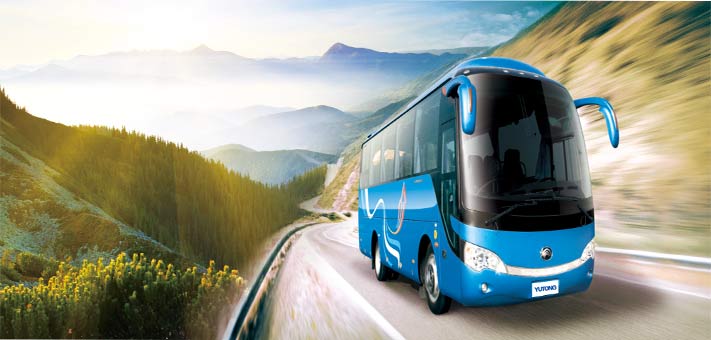 Based on the mountainous feature of the South America and requirements of customers on smaller turning radius of the vehicle, ZK6838HA for the first time adopts the front axle with a large steering angle, reducing the turning radius of the vehicle to the maximum while ensuring the seating space. Meanwhile, ZK6838HA also adopts high-powered engine and optimized design method of powertrain matching and vehicle weight, effectively enhancing the powerful performance of the vehicle and enhancing the active safety of the vehicle in the mountainous area.
Through the CAE simulation analysis, 8,000 km reliability test on the proving ground as well as performance testing and quality assessment of whole vehicles, ZK6838HA has obtained good results on the vehicle strength, noise, cooling performance, powerful performance and so on. Adopted the full-steel body of annular frame member, ZK6838HA features high structural strength and good energy absorption performance, thus effectively improving the passive safety of vehicles. Through the joint efforts of Yutong Technology Research Institute and Yutong Experiment Center, ZK6838HA has a groundbreaking improvement in terms of the noise inside the vehicle, effectively enhancing the seating environment of the passenger compartment.
Taking the maintenance costs of foreign customers into account, the bus uses split front windshield; taking the road conditions into account, the bus adopts the design that the steering wheel and radiator are on the same side so as to ensure the cleanliness of the vehicles; add the optional luggage doors on the rear and side wall to allow the extra-large parcels of European and American passengers and meet the differentiated requirement of customers.