Yutong hydrogen fuel cell buses win the bid in a UN project
2017.11.14
Recently, supported by the Global Environment Facility (GEF) and the United Nations Development Program (UNDP), and implemented by Chinese Ministry of Science and Technology, the 3rd phase of "Promoting the Commercialization of China's Fuel Cell Vehicles" issued the bidding results, and Yutong hydrogen fuel cell buses won the bid and will carry out trial operation in Zhengzhou, capital city of Henan province.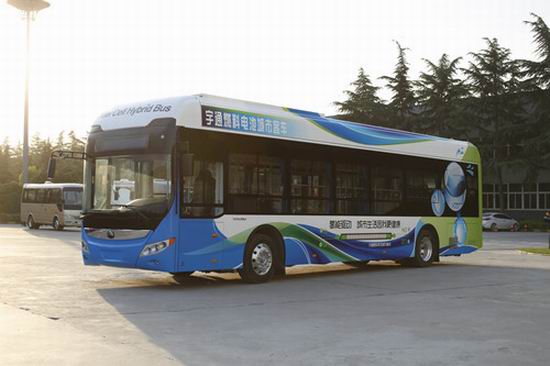 It is learned that this project covers fuel cell buses, trucks, cars, logistics vehicles and so on, and totally 16 fuel cell buses are needed for the international bid and they are expected to conduct pilot run in five cities namely Beijing, Shanghai, Zhengzhou, Foshan and Yancheng. The Yutong fuel cell buses that won the bid will be operated in Zhengzhou.
The implementation of this project is of great importance to both China and the rest of the world. Therefore, every part of the project is critical and the selection of vehicles is no exception. Why Yutong could pass the strict selection is closely related with its advanced technologies and profound accumulation on fuel cell bus field.
As a company who firstly obtained the production qualification of hydrogen fuel cell buses in China, Yutong has eight-year experience in developing fuel cell buses. Nowadays, Yutong has successfully developed the third generation of hydrogen fuel cell buses, and the fourth generation products are also under development. The performances of third-generation hydrogen fuel cell buses have been greatly improved. The hydrogen consumption is less than 7.2kg per 100km, the vehicle can startup at -10 ℃, and the driving range reaches more than 500km. Hence, there is no wonder that Yutong could win the bid.
The hydrogen energy features a wide range of sources and is clean and highly efficient, which is regarded as the ultimate solution to the problem of energy shortage. As one of the important direction and inevitable trend of new energy bus development, hydrogen fuel cell buses are also encouraged and supported by the state.
In addition, the project of "Promoting the Commercialization of Fuel Cell Vehicles in China" will also provide data and information support for solving the above problems. Through the trial operation of the fuel cell buses in different cities, the project can collect and analyze the data of buses and hydrogen refueling stations, and figure out how different business models in China can affect the fuel cell technology upgrading and cost reduction, thus proposing the industrialization development route of China's fuel cell vehicles.