Yutong opens a new era of green mobility in Macau
2018.10.10
On September 26, 20 units of Yutong full electric buses were officially put into use in Macau. These buses include 18 full electric coaches E11 (ZK6109BEVHA) and 2 full electric city buses ZK6105BEVG. All vehicles are purchased by Melco Resorts & Entertainment (Melco), and will be used as shuttle bus for tourists in hotels.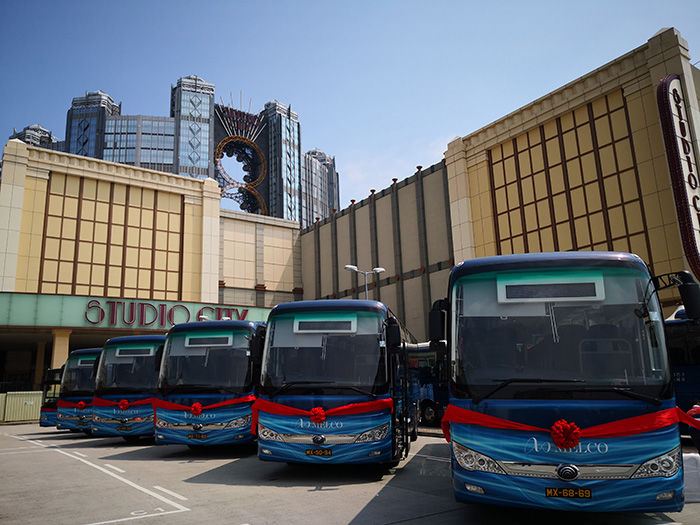 Yutong full electric buses
Representatives from the Macao SAR Government Tourist Office, the Central People's Government Liaison Office in the Macao SAR, Melco as well as tourism and passenger transport companies attended the inauguration ceremony to witness this important moment in the development of new energy buses in Macau.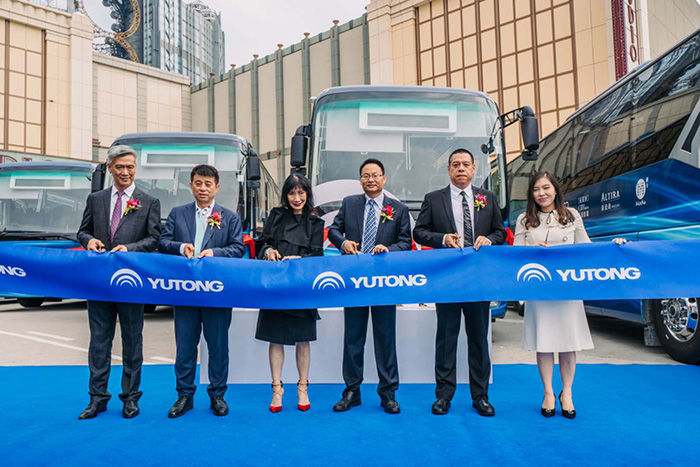 Leaders cut the ribbon for the ceremony
After more than ten-year efforts in Macao, Yutong's market share has held a safe lead in terms of the bus sales in Macau, and is still growing steadily. So far, there are totally 2,700 buses and coaches in Macau, among them 1,400 units are from Yutong, accounting more than half of the total. Yutong has undoubtedly become the No.1 bus brand in Macau. Since 2014, Yutong buses have made up 70% of all the newly purchased buses in Macau. After the operation of these 20 full electric buses, Yutong's market share will reach 78% in Macau's full electric bus market, absolutely becoming the main force of the energy saving and emission reduction in Macao. Given this, the number of new energy buses in Macau will also increase significantly, and the new era of green mobility in Macau has officially arrived.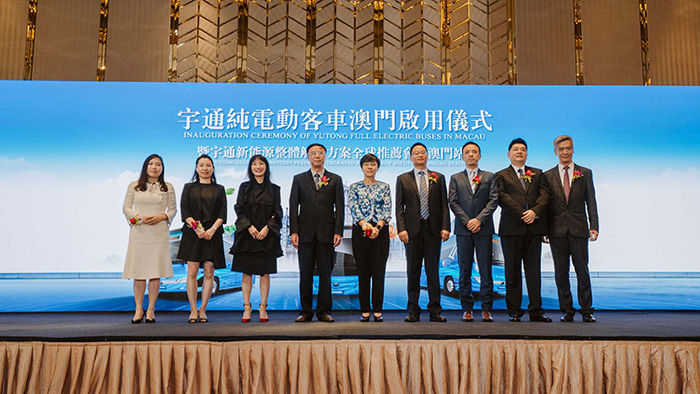 Inauguration ceremony of Yutong full electric buses in Macau
Featuring subtropical maritime climate, Macao has heavy rain and humid air. At the same time, it sees serious traffic congestion due to the scarcity of road resources. Therefore, it has a higher demand on the overall design and performance of vehicles.
As an old customer who has cooperated with Yutong for more than 10 years, Melco has always trusted Yutong products and most of its shuttle buses are with Yutong brand. However, Melco was still very cautious while introducing full electric buses.
The leaders of Melco have ever visited the Yutong plant two times for investigation and inspection. In addition, they conducted nearly the half-year trial operation on E11 from September 2017 to February 2018. Then it was found that the driving range reached 300km with the air conditioner turned on and full-load condition, and 20% remaining electricity was still available. Moreover, the safety and reliability of the vehicle were beyond their expectation. All this resulted in the procurement of these full electric buses.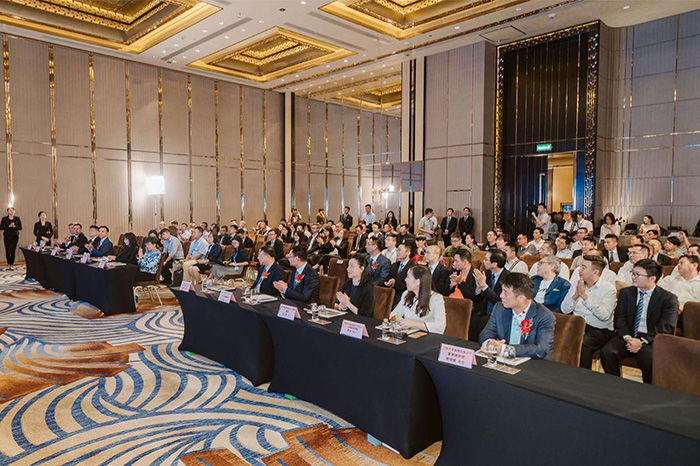 Inauguration ceremony of Yutong full electric buses in Macau
It is learned that E11 coach is a model specially developed for the Macao area. Its power battery protection level reaches IP68 and can be safely immersed in water for 24 hours. The ZK6105BEVG full electric city bus is the latest model developed by Yutong for the European market. Equipped with the "BusEYE Pro" driver assistant system self-developed by Yutong and through forward collision warning, pedestrian collision warning, headway measurement warning and lane departure warning, the vehicle is much safer, and the pressure and fatigue of drivers is greatly alleviated.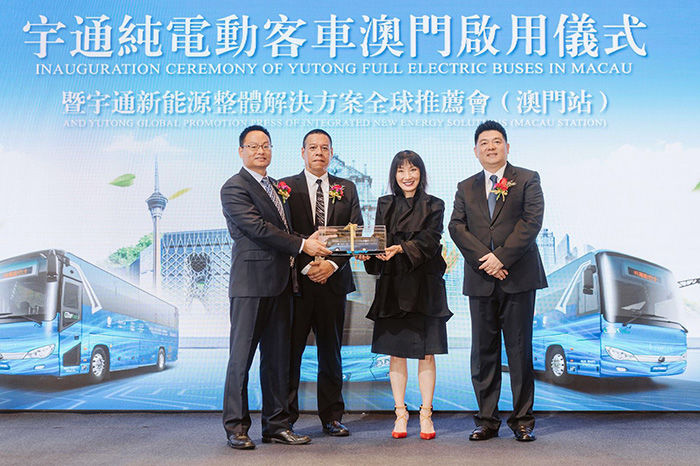 Hu Huaiban presents the bus model to Melco Resorts & Entertainment
In addition, the two bus models have achieved a large power capacity of 324kWh through rational design and configuration of batteries, ensuring the daily operational needs in the occasion of congested roads in Macau.
Yutong boasts not only the superior quality of products, but also the universally praised after-sales services, especially the active service attitude is highly praised by customers. As we know that Macau is a typhoon-prone island, so Yutong service people are very concerned about the weather conditions. Every time before the typhoon arrives, they always remind customers to transfer their vehicles to high places and take protective measures. Just a few days ago, the typhoon Mangkhut plagued many areas in China. However, all Yutong buses operated in Macau have not been damaged thanks to their thoughtful services.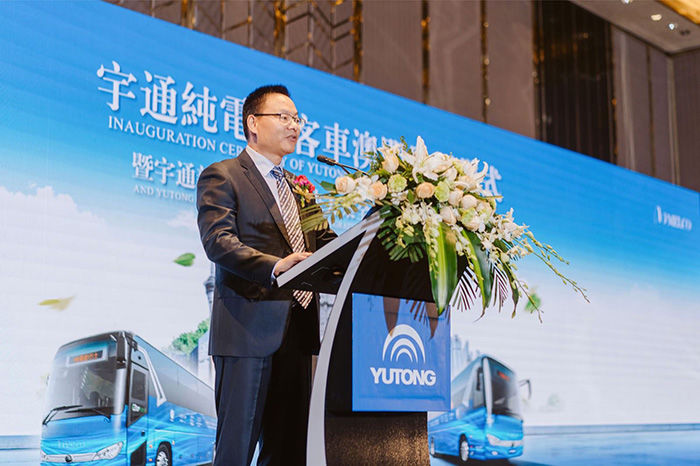 Hu Huaiban, General Manager of International Business of Yutong Bus
Nowadays, the promotion and application of new energy buses in Macau are gearing up. In 2016, in order to actively promote the development of green mobility in Macao, the government exempted the vehicle purchase tax of newly purchased new energy vehicles and expected that all the shuttle buses for hotels would be replaced by new energy buses in three to five years.
Yutong began to explore new energy bus market of Macau in 2015 and became the first bus maker who achieved the operation of sizable volume of new energy buses in Macau. Nowadays, the inauguration of such a number of 20 units of full electric buses is unprecedented in Macau, which will not only have a far-reaching influence on the promotion and popularization of full electric buses in Macau, but also play a positive role in supporting and encouraging the promotion and application of new energy vehicles for the Macau government. Furthermore, the addition of 20 full electric buses to the public transportation fleet in Macau will further optimize the green mobility system of Macau.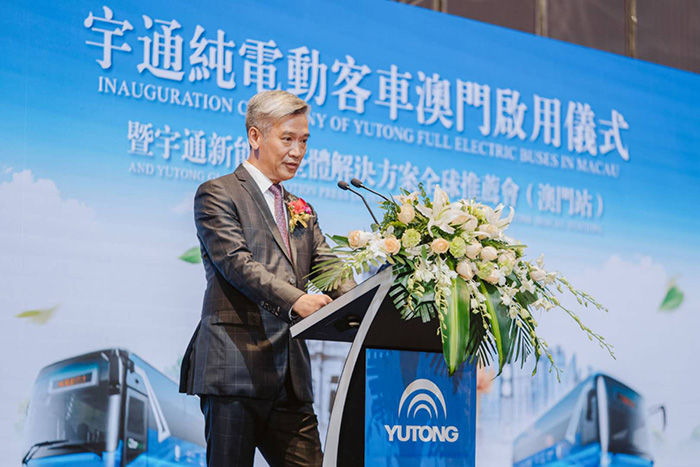 Ho CHAK Meng, managing director of China Commercial Vehicles Trading Ltd.
Apart from Macau, Yutong has a very systematic strategy for the global market. It began to explore the overseas market in 2005. From product output in the early time to the output of technologies, standards and brand, Yutong has formed a global layout consisting of Europe & North America, Middle East, Asia Pacific, Latin America, CIS and Africa with steady work. Yutong products have been exported to over 30 countries and regions in sizable volumes. In the future, Yutong will continue to increase its investment in overseas markets based on its own technology and product advantages, and become a leading provider of bus travel solutions in major markets.