Yutong pursues its dream and glory for Made-in-China buses in Europe
On Oct. 16, all leading bus makers from China gathered at Kortrijk, a small town in Belgium to attend Busworld Exhibition, which is held every two years. Yutong, the leader of China's bus industry, brought nine buses on display to showcase its competitiveness in bus manufacturing.
One thing noticeable at this year's Busworld Exhibition is changing roles played by bus makers from China. Apart from their formidable power in manufacturing buses, China's bus makers are also competing with the internationally renowned bus brands from Europe, demonstrating that the bus brands from China are enjoying a gradually rising status in the global arena.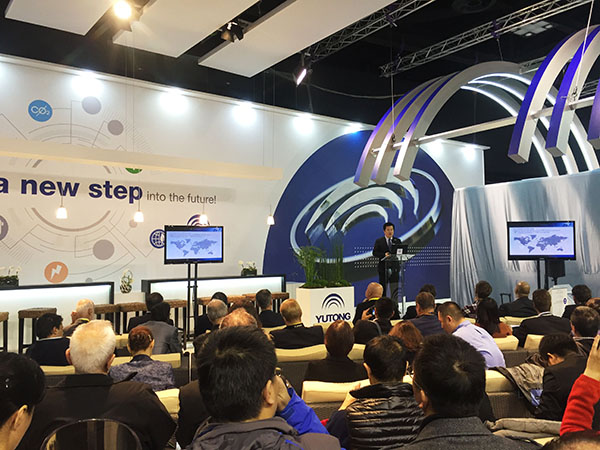 During the Busworld Exhibition, Yutong not only has some futuristic bus products available, but also bus models which are enjoying rising popularity in Europe. Its 12-meter full electric bus and 12-meter high-end coach are aimed at taking the European mainstream bus market by storm. In the meantime, its ZK6121HQ and ZK6938HQ buses are the new generation of vehicles for European markets according to customers' special demands.
For many years, bus makers from China had only dreamed of entering European market, where bus industry is originated. In addition, Europe boasts the highest bus manufacturing technologies. For the reasons above, the entry into European market is the highest standard for evaluating a bus maker's level of internationalization. Europe also boasts a number of internationally well known bus makers. In recent years, along with the rising status of China's buses in the global market, to conquer the European market is a must for all leading bus brands from China.
Tang Yuxiang, president of Yutong points out, "for the internalization of Chinese brand, the products made in China must first be recognized in the global market." In 2004, Yutong officially started to enter European market. However, in the first seven years, the company had been cultivating the market in a quiet manner, only making small progress. Starting from 2011, its hard work has started to pay off. In that year, Yutong sold 114 units buses in Europe. In 2012, it's sales volume in Europe reached 200 units. In 2013, Yutong registered a bus sales volume of 383 units. In 2014, its bus sales volume stood at 277 units. To date, Yutong buses have made their presence in an increasing number of European countries, including France, UK, Spain, Italy, Norway, Sweden, Denmark and so on.
Just as Yutong is constantly monitoring the changes in Chinese bus market, the company has also become quite well versed in the European bus market. According to some media, Paris is planning to further develop its public transport. In the next five years, the city will invest 32 billion Euros to purchase clean-energy powered vehicles, extend public transport routes and offer subsidies for public transport cards. In London, the city also aims to have all its single-deck buses with zero-emission standards.
To lead a new trend in Europe, Yutong designed and developed a 12-meter full electric bus for the market, offering a new choice for all European bus operators.