Regarding the Yutong school bus EC 9 with a capacity of 39 seats + driver, we have tried it with the 6-in-line cylinder Cummins engine of 6.7 liter and 280 hp.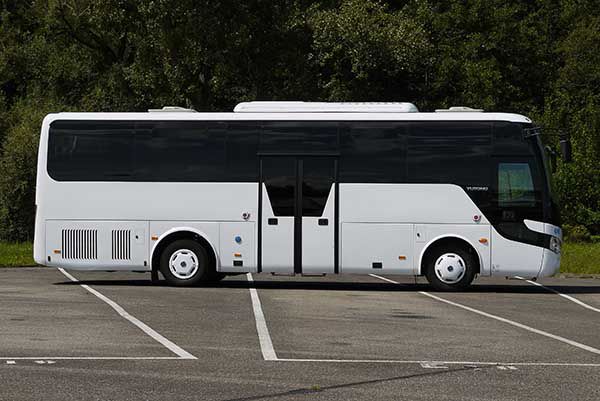 Some models built on solid foundations and assembled with well-known equipments in Europe such as: ZF (gearbox, steering), Cummins (engine), Telma (retarder), Meritor (rear axle), Michelin (tires), etc.
The shape is slim, notably with lights harmoniously integrated into the front panel. They rise on to the side till the lateral windows, making a good looking at the middle and front doors.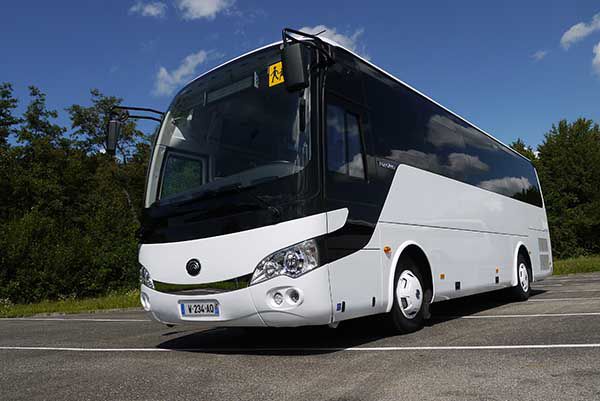 Nothing shocks neither the outside nor the edge. In spite of its 2.50 m width and a length of 9,35 m, the EC 9 welcomes passengers in a high comfort.
Passengers enjoy complimentary luggage racks, reading lights and individual air vents, four opening windows and a luggage compartment of 4.4 m3 volume. Impressive. Most of them are transversal.
All about the driver seat is also well seen. Nothing is lacked: display linked to the camera, heating and air conditioning controls (also well positioned and located just on the right of the dashboard), gear lever integrated into the board.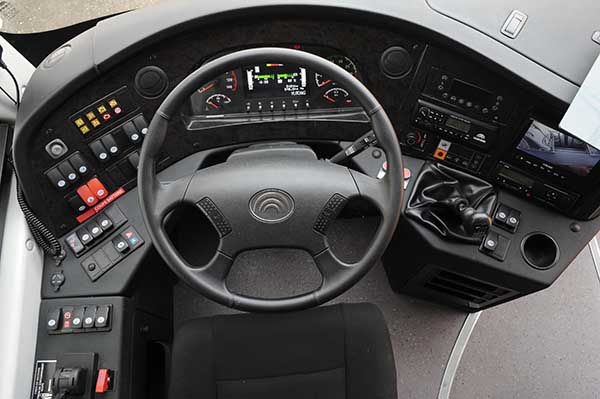 The central display signed ACTIA provides a wealth of information and diagnostics (levels of fuel, AdBlue, etc.). Among the other facilities including the on-board alcohol tester, autowatch, well-positioned controls, plus plenty of storage space... the last but not least: the driver seat has multiple adjustment, with on the side, an adjustable microphone.
In addition to fixed seats with headrests (there is backrest cover in standard), passengers can easily place their belongings in the luggage rack provided for this purpose.
If the vehicle is in a dark place or if it is night, the cabin has a central lighting (+ sides). On each side of the luggage racks there are handles and stop buttons.
The air conditioning is 24,000 Kcal/h (with compressor Bock). In addition, the EC 9 has 2 roof hatches with integrated ventilator, a 'plus'!
The entrance is through a simple, swinging door, pneumatically controlled, and in the middle section, through a swinging double door.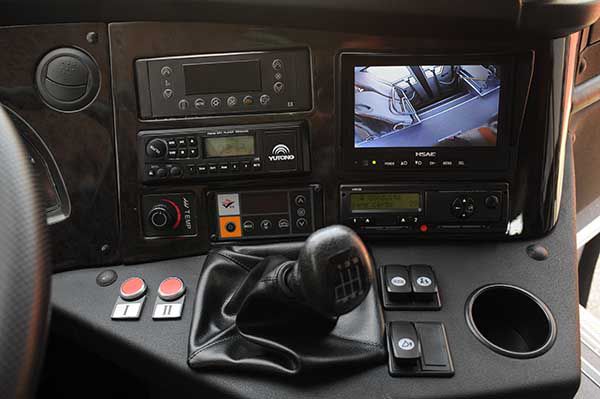 The driver has a dashboard that extends itself with elegance. Even though it is quite narrow, it takes a lockable storage at the front door. Talking about the storage, we can see it almost everywhere: under the dashboard and at each side of the roof. Above the driver, there is the first aid kit and a deep storage case on the right (also locking).
Bottle holder, storage compartment and driver's side window opening complete the very well designed driving area.